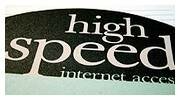 A majority of Italians have a home Internet connection with ADSL line.
Among them, many people have experienced a very common problem: in different times of day the signal is so weak as to be unable to browse, download files or upgrade their website.
Try to understand the reason for simplifying the concept.
All common ADSL lines divide the bandwidth (ie the amount of signal) available between users connected at any given moment.
So many people whose line is physically attached to the same unit are both connected to the internet, the lower the amount of bandwidth (or signal, if you prefer) who arrives on our line with a consequent lowering of the speed of navigation.
So why pay for a service for good with the unknown can use it at will?
Let's see how to resolve the question definitively, and above all save a lot of money.
First of all there is to know that is no longer necessary to have a phone line (telecom) to take advantage of ADSL.
For some years now have the DSL cable data to allow, in addition to surfing the Internet, including telephone calls, receive calls and send and receive faxes, assuming you have a minimum guaranteed band.
For guaranteed minimum Banda (BMG) means the amount of bandwidth for the transmission / reception data that an ISP (service provider) can guarantee to each user.
This shows that in order to eliminate the problems expressed earlier in this article, and not wasting our money, we need a DSL high-speed guaranteed.
I use the ADSL guaranteed bandwidth of about 1 ½ years, with surprising results and savings.
In the past I had phone and internet with our national monopolies.
Given that the phone can use the least, my bills were on average 180 euros (the amount will rise dramatically as I was using the phone) every two months between phone calls, telecom canon, canon ADSL, Internet traffic, flat and various taxes.
In times when the signal was good, to save on calls, telephone call using VoIP.
Then I got tired of the long, were the costs in bills than the rest.
Also at various times the speed was so poor, so that they could not use the Internet to surf neither for nor phone.
So 'I started to document to find a solution and when I cleared up for good ideas have changed my operator.
I am sure this article will be useful to all those who have found themselves in my same situation.
Currently, the mobile and internet spend on average 60 euros per month (taking into account that in January there was an increase), with a guaranteed bandwidth of 320 kbps in upload real (the guaranteed bandwidth for upload is the most important parameter to take into account when choosing a guaranteed bandwidth ADSL) and I finally got rid of the fee telecom.
To call using VoIP and call at ridiculous prices abroad, without the anxiety of the bill.
Moreover, even the fax send-receive them through the internet.
Then double savings: if I do not need the fax arrived erase it, if I need them stored on your computer and not wasting neither ink nor paper.
I would like to point out that though my DSL is fairly high-end, household (telephone calls and navigation) are already real good 128 Kbps (upload) and in such case, the average price is around 30 euros per month.
And now we do some comparison.
The old adsl + phone line cost me 90 euros on average (sometimes more) per month x 12 months = 1080 Euro + voip recharge some (say, thirty Euros) and the activation of the line (I think 150 euros).
I spent a year in 1260 Euro.
The current DSL costs me 47 euros but up to December was 39 euro cents more 'penny less.
Then using a guaranteed bandwidth of ADSL in the past 12 months I spent: 39 × 12 = 468 Euros + 100 Euros activation (now the activation cost has changed and several operators have replaced with a fee of EUR 10 months) + say 100 VoIP = 668 euro euro
No need to be good at math to make 2 accounts: 1260-668 = 592 euros of savings a year.
And I'm not counting the cost savings realized by the fax service via the web because I used it sporadically.
I also wanted to make another comparison between what we spend now and what I would spend if I spent one of the offers of other operators who are advertising on television during this period.
As I said a moment ago now I pay 47 euros monthly ADSL guaranteed bandwidth, then I quantified monthly expenditure for making phone calls using VoIP exclusively.
On average, make 50 calls each month from 1 minute to mobiles (per minute costs me 18 cents tax included without charges) and 50 calls of 1 minute to landlines (costs me 1.8 cents per minute including VAT no connection charge ) spends a month a total of 10 euros in calls.
So now I spend 57 euros a month.
Controlling costs, fees, up charges where applied and the retail price of DSL + phone deals advertised on TV, and taking into account that more than 50 calls to the internet to make calls to fixed phones and 50 per month, I have a monthly cost of no less than 72 euro taking the best offer but always without guaranteed bandwidth.
As you can see I'm still saving a lot: 72-57 = 15 savings per month in one year become 180 euros.
As for the average user, as I said before, are already over 128 k of bandwidth guaranteed by choosing this cut would have cost me a 360 euro + 120 years of VoIP for a total of 480 euro, compared to 864 per year more of ADSL (s) convenient without guaranteed bandwidth, would translate into a saving of 384 euros per year.
If anyone is part of that group of people who have decided to cut phone calls from home and do not even want to call using VoIP, the savings comes to 504 per year.
As if that were not enough, even assuming that the normal ADSL has a cheaper cost, remain the major difference being that there would not be sure that they will go or call when we want because, as mentioned by the same operators that do not provide guaranteed bandwidth:
Connection speed (and therefore also the quality of VoIP calls) depends on server capacity, and traffic on the Net
That is to say, if we know that many people connected no guarantee that we'll be able to surf the Internet or make VoIP calls.
And this is not happening for ADSL broadband guaranteed.
However, the best comparison may do each of you: Take the last two months of bills relating to telephone and internet, I'm sure you'll be amazed by how much money you can save.
Before I finish I want to make an important note: Telecom because he knows that more and more users phone calls using VoIP and then through ADSL, and also began to face competition from other operators, is thought to be paying a monthly fee also for these lines, a cost then clearly falls on final consumers.
Since these costs is unfair and not due, the Association of Internet Users eTLC has drafted a Petition for the abolition of the fee Telecom
and additional royalties on the line only data which has to date collected over 24,000 signatures, and I invite you to subscribe as more signatures are collected,
climb the more likely that the government takes account of the demands contained in the petition itself.
In conclusion then, if your DSL seems too expensive, they often are unable to navigate because the connection speed is too slow, if you want to spend less and save money even on the phone ...
switch to a DSL broadband and you will be guaranteed more than satisfied with both the quality for savings.
If you experience any doubts or questions please leave a comment.
This article may be republished on other websites in whole or in part without undergoing substantial changes, provided you cite the author and in exchange for a link to this page.
KDEP
You can subscribe to RSS to stay informed about news from the site by clicking here.

Other interesting items
Leave a comment